Welcome To KNGPG College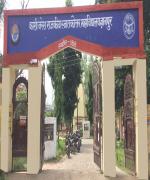 The Kashi Naresh Govt. P. G. College, Gyanpur was established in 1951 by the state government of Uttar Pradesh as one of the pioneering institutes of higher learning with vision of providing access to the students of rural and under developed areas to higher education with an aim of providing high quality education at their doorsteps at minimal economic cost through optimal utilization of available resources. The college has co-education system and the motto of this institution has been, besides education, to inculcate values among the students and live up the expectations of good citizenship.
The college was affiliated to Mahatma Gandhi Kashi Vidyapeeth, Varanasi and attracts students for higher education in friendly environment because of availability of a large number of subject choices, familiar and affectionate relation between students and teachers, research supervision by experienced faculty and tradition of quality education. Presently, there are four faculties of Arts, Science, Commerce and Education with a student, teaching staff and administrative/technical/supporting staff strength of 6541, 109 and 36, respectively. Over all 22 departments offer undergraduate programmes in their respective fields, out of which 19 departments run postgraduate and Ph.D. programmes. Besides, college has 03 boys plus 01 girls unit of NSS, one unit each of Rovers –Rangers and one company of NCC cadets.. The college also has been recognized as a Study Centre of IGNOU, New Delhi, Rajarshi Tondon Open University, Institute of Company Secretary of India.
Admission to various courses is given on merit basis strictly in accordance with reservation policies of the state government. Weightage is given to women candidates. The students primarily belong to rural areas. The college has a highly qualified teaching staff selected through UPPSC, Allahabad who teach the students in interactive manner and employ classroom teaching as a Principal method of teaching and also use other methods like seminars, projects and use of projectors to improve the quality. The college teachers are actively engaged in guiding research. Nineteen departments of the college offer Ph.D. programmes and some research projects funded by UGC, New Delhi are also being implemented. There is a college level research and development committee, which provides necessary information pertaining to research to the teachers and the students.
The college has a total land area of 74.16 acres out of which the built-up area is 16,213.83 sq. meters. There are two multipurpose halls, 35 lecture theaters/lecture rooms, well-equipped laboratories, a music room, arts and crafts lab, girls and boys hostels, musea, playgrounds, courts, multipurpose gym etc. There is a central library having a collection of 88,500 books and journals. Besides, several departments have their own departmental libraries. Lecture method is the most commonly practiced method of imparting knowledge however, overhead/slide/LCD projectors, audio-visual devices, charts and models are also used as teaching aids.
The college publishes information brochure with the application form which gives complete information about the college in a nutshell. . The college has good facility for indoor and outdoor games. The college also publishes its own annual magazine "Manisha" to instill the innovative behaviour in faculty, staff and students.
Located in a rural area and catering to the needs of students belonging to different sections of society for more than fifty years, the college has earned an esteemed reputation and is making notable contribution in the development of people and society and plans to initiate new courses and options to the students suitable for the needs of emerging trends of employment in national as well as global markets. Another feather was added in its cap when the college was accredited Grade 'B' by NAAC (National Assessment and accreditation Council, Banglore) in the year 2017. Today the college occupies a unique position in the field of education,Research, sports and extra cullicular activities in friendly atmoshphere The college is really proud of its alumni who have excelled in every walk of life, be it public life, civil services, armed forces, judiciary, private and public sectors, media and Sports. They have done our college proud. Today the college continues to live up to the motto given to it by its founding authorities VASUDHAVA KUTUMBAKAM.